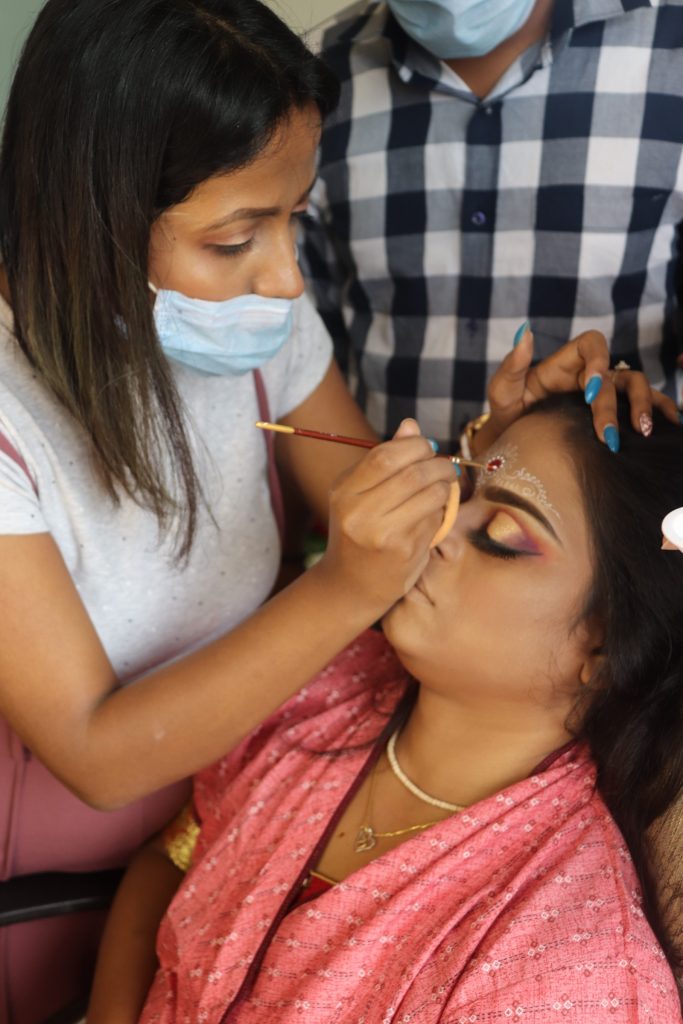 And here is She – Debolina –
A Unisex Salon Owner,
A Make-up Artist specialising in Bridal Make-up,
A Fashion Designer,
A creative Women Entrepreneur,
An Innovative Stylist
A Make-up Educator as well as a Loving and Caring Family Woman.
She welcomes you with a big smile on her face, and spark in her eyes.
The seed of VOGUE Studio  was sowed in the creative minds of the Founding Members Rachit and Debolina 6 years ago when they decided to pack their bags from corporate IT jobs and start a beautiful journey in the world of Beauty and Wellness. They started with their first outlet at Blue ridge Hinjewadi Phase 1.
The basic idea behind the creation of VOGUE Studio was to provide high quality "Budget Luxury" experiences to the customers with Pocket Friendly Packages. At the same time, creating employment opportunities for the young skilful artists in a collaborative and supportive work environment, where they would not have to face the harshness of a corporate organisation which Rachit and Debolina faced in their corporate career.
Over the last six years, this seed has metamorphosed into a beautiful tree having branches spread out into 5 beautiful outlets across Pune with over 50+ skilful artists. We expanded our services from beauty and wellness to ONE STOP bridal shop with
High-end Makeup Services
Pre Bridal and Groom Salon Services
Hairstyling

Wedding Jewellery

Nail Salon

Bridal Mehendi Art

Photography
Tattoo and
Designer Boutique with customized wedding outfits
To help more people get rightly educated in this field, she also started a Beauty School and Training Academy.
Keeping the fact of constant changing fashion and grooming needs in mind, VOGUE Studio has been pioneering in introducing the latest trends, services, products and technology to the customers persistently.
At VOGUE Studio, you will receive a professional yet friendly atmosphere and top of the class quality services which are second to none.
Our MUA team - Top Bridal MUA in Pune
Debolina believes that makeup is not just cosmetic makeup but it is a combination of
the behaviour , attitude, body language, hair, outfits etc. –
Everything has its own essence which adds up to that final royal and classy look. Which is why Shearz Studio expanded its verticals to different fields, which caters to all these needs at one stop.
She also likes to style, refurbish and enjoy creativity in style . Debolina as a child was always fascinated with paintings and loved creating art. When she discovered the power of makeup, she realised that the face is a 3D canvas and she sees makeup as painting on that 3D canvas. She is extremely friendly and comforting to her clients. She keeps them calm on the day of the wedding.  Debolina still finds the most satisfaction when a client feels beautiful.
"After I finish, the look on the face when they see themselves in the mirror is unparallel to any other happiness" When my clients smile, that's real success. And without the smile, makeup is nothing!
She has a team dedicated to handle her different verticals. She personally specializes in Airbrush Makeup and accomplishes more than a whopping 100 Airbrush makeups every year!  She believes in bringing out the inherent beauty in you rather than create a fake sculpted look. If you want to look your best on your special day, then Shearz Studio is the place for you. To get a glowing, flawless look from head to toe, head to Shearz Studio for an outstanding experience by our team.
Free session with our fashion consultant – classy fashion guides and detailed planning of your look.
Everything at one place –  especially, if you're getting married, then this place is a paradise – cater to all your fashion and grooming needs –  you don't need to go to different places and experts for different pre wedding services – for both him and her.
Personal touch and customization:  Unique customizations for each and every guest –  according to your style, requirements and face structure and taste. 
Flexibility
Latest trends and technology: Among the first ones to introduce to you the latest fashion trends and technologies (in the Indian market) 
Customer value and consultation
Best prices – budget luxury
Tech savvy and ease of booking
Accomodating
Top quality: Recognized as one of the top salons and makeup artist in the city. Also top rated in google, WedMeGood and WeddingWire
Finest taste in everything: best in every service
Popular for its excellent service experience and warm and friendly staff.
Best Quality Products We understand the importance of using quality products and hence, we use products only of the best brands.